ABOUT US
Beck & Co. – Your Partner
As a specialist trade partner, we are only successful if you are one of them.
That is why our service goes beyond selling. Beck offers you a wide variety of manufacturers, brands and services. This presupposes extensive specialist knowledge on the part of our employees, which is continuously expanded by training courses. This is the only way for Beck to be able to work with you as an independent consultant to find the optimum solution for your needs. When selecting partners and manufacturers, Beck relies on renowned brands and suppliers of niche products that guarantee you maximum quality and innovation.
What distinguishes us
Full-Service-Provider: tools, machines, precision-, clamping- and measuring technology, workshop requirements, occupational safety and much more.
Global Contact: with our expertise, market proximity and customer orientation we are on site for you.
Problem Solver: thanks to a large network, we will find the optimal solution for you.
Individual Logitics Concepts: procurement, organisation and planning, all from one source.
Servics: services such as grinding, calibrating and repairing are a matter of course for us.
E-business: process-optimized procurement solutions tailored to your needs.
Branded Products: high-quality products are a must for us, selected brand manufacturers are our partners.
Your contact persons
Field Service  Competent and flexible.
With on-site support by our more than 70 employees in the sales department, we are in constant contact with our customers, intensify the cooperation, support you with advice and practical help and technical competence and thus prove our efficiency on a daily basis.
Internal service  Only satisfied when you are satisfied.
We achieve closeness to the market, flexibility and adaptability with well thought-out team organisation and customer-oriented action. Qualified advice, fast availability and prompt processing of your enquiries are our plus points.
Application engineer and consultant  Individual advice for more performance and safety.
We support you! As a specialist consultant in the field of precision and machining technology for individual requirements and problems. When it comes to your personal protective equipment (PPE), a competent team with expert knowledge is at your side. Safety tests for access technology and fall protection are also part of our service portfolio. Even your planning of the optimal workshop, warehouse or office equipment is supported by our consultants. System consultants and service technicians are available to help you implement your locking system projects successfully.
---
Beck International
Think global – Implement local
We have long-term experience in worldwide customer care and supply. With our trade partners in a bright variety of countries, we ensure a competent local support.
In Europe
Belgium, Great Britain, Lithuania, Luxembourg, Malta, Netherlands, Austria, Poland, Sweden, Slovakia, Slovenia, Spain, Czech Republic, Hungary
Worldwide
China, Morocco, Ukraine, United Arab Emirates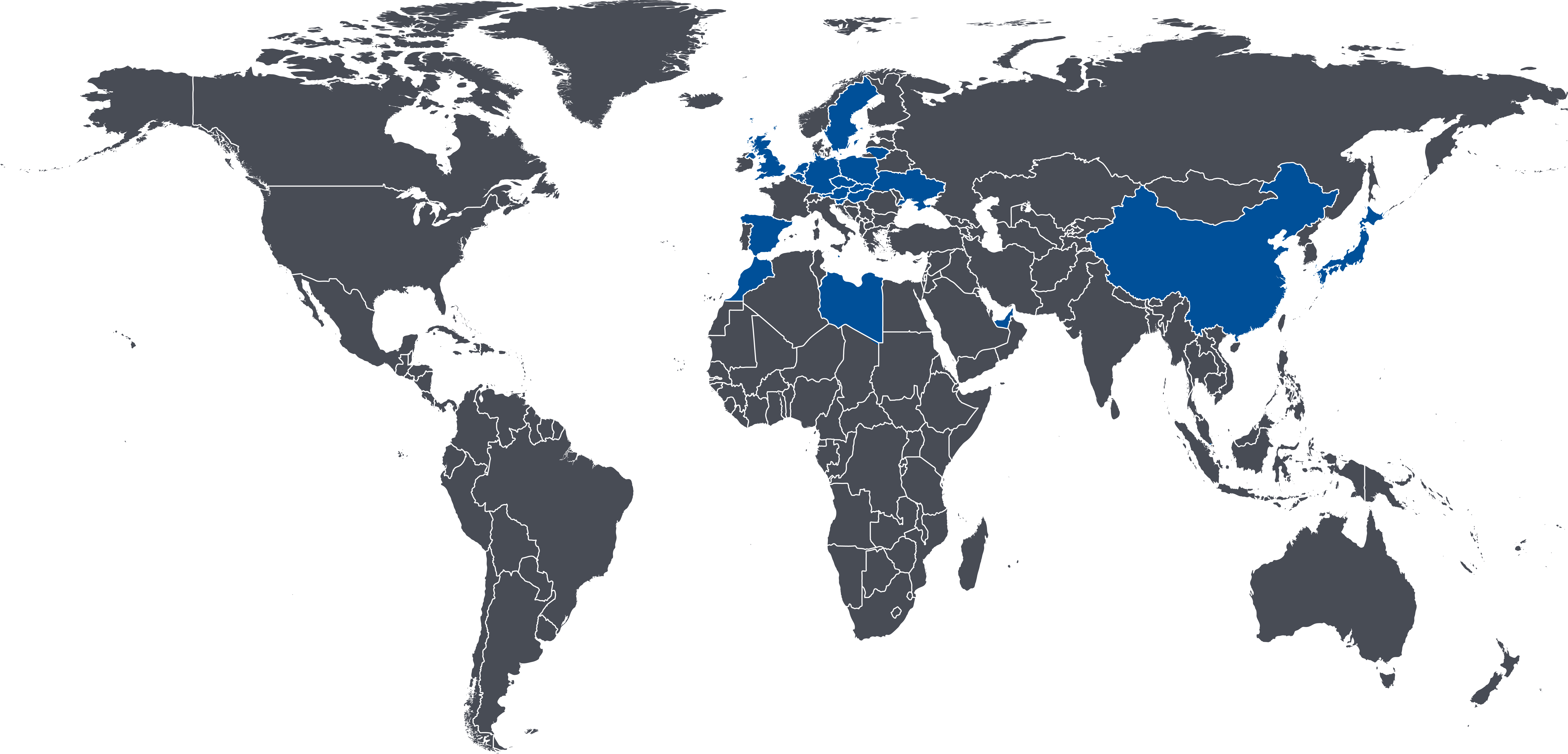 Our service and offerings in export processing
Special procurements
Export documentation
ECC documentation
Certificates of origin
Origin information
Long-term supplier declarations
After Sales Services
Interested in our service for export processing?
Contact us:
Mail: sales@beckco-werkzeuge.de
Phone: +49 231 999537232
---
Our Logistics 
YOUR SECURITY OF SUPPLY
Our logistics, supported by the most modern IT systems, ensure fast and reliable short delivery times.
Delivery by forwarding agent and parcel services.
Orders received before 4.00 p.m. will be dispatched on the same day (for parcel goods)
We offer additional individual logistics concepts, more info >>
Our central warehouses
Ehningen:
with 10.000 m² storage space
98 % Delivery capability
over 40.000 articles
approx. 40 tons of general cargo and more than 1,000 parcel shipments are loaded daily
Giessen:
with 180.000 m² storage area and 61 loading gates
98 % Delivery capability
over 175.000 articles
Our logistics partners
Shipping and Handling
Standard shipping (up to 31.5 kg): Standard 7.95 € | Dangerous goods 14.95 €
The transport within Germany is free of charge for parcels with a value of goods exceeding 150.00 € or for freight forwarding freight free place of delivery including packaging. Bulky or heavy goods and dangerous goods are excluded from free delivery. Delivery ex works, freight forward, plus packaging. Orders under 150.00 € will be charged with shipping and handling costs of 7.95 €.
The current terms and conditions of Beck & Co. Industriebedarf GmbH & Co. KG >>
---
Certified Quality Management
Safeguarding and increasing the quality of products/processes.
The advantages for you:
Alignment of the company according to customer processes
Restrict to the essential core tasks
Support for interdepartmental actions
increased internal and external transparency
Reduction of redundancy/double tracks
clear definition of responsibilities
Improved information and communication flow
Contribution to safeguarding know-how
Leading with goals, controlling by means of key figures
early detection of weak points
sustainable maintenance of a high quality level
Continuous improvement through process measurement and data analysis
Increased customer satisfaction
Increasing profitability and competitiveness

News
09_2023 Catalog Industrial Safety
06_2023 Catalog Power Tools
06_2023 Catalog Precision Technology
05_2023 Catalog Workshop Needs
04_2023 Catalog Welding Technology
02_2023 Beck & Co. Industriebedarf GmbH & Co. KG now also in Emden!
01_2023 The new assortment catalog 2023
01_2023 New Location in Mülheim-Kärlich
12_2022 Donations instead of gifts
09_2022 Brochure ZWpro Fitting
07_2022 Catalog Tool Technology
12_2021 For a good cause
12_2021 Closing times between Christmas and New Year
08_2021 ProActiveAir expands assortment
02_2021 Filter device ProActiveAir
01_2021 Beck & Co. Industriebedarf GmbH & Co. KG now also in Schermbeck!
08_2020 BG Bau promotion
09_2019 ICONO Solid carbide tools 2019
10_2018 We are now certified according to DIN EN ISO 14001!
10_2018 Now you can easily receive your invoice by email.
02_2018 E-Scanning - Optimizing processes through intelligent procurement.
01_2018 Beck & Co - now also on Facebook
04_2017 New location in Geislingen
10_2016 New location in Dortmund
Career
Beck & Co. as an employer
Our years of experience and the pleasant working atmosphere characterize us as an employer.Flat hierarchies and individual support enable individuals to continuously optimize their skills and successfully integrate them into the company. We set high priority in a fair and respectful interaction with each other. Convince yourself of our varied and exciting fields of activity and become part of the Beck & Co. team.
We look forward to receiving your application!
Recent job offers:
At the moment we have no vacancies.